Below is my article from the August issue of the Cooperative Living magazine:
For as long as I can remember, I have always held an appreciation for the Ford Mustang. I know. I know. Everyone has their favorite car, with some people even delighting in putting the competing manufacturer down. Still, there's just something about a Mustang that screams American muscle to me. So, when Rodney Harrison, President of Harrison Ford in Wellington, called me up to ask if I wanted to take the new all-electric 2021 Ford Mustang Mach-E for a couple of days to test it out, I jumped at the chance.
I have to admit, when I saw the car, it didn't much resemble my favorite 1964 ½ body style. Rather, Ford had taken a pretty big turn with the new body style, even to the point of the car being categorized as a SUV. But, the iconic Mustang logo still emblazoned the front, so I knew the car would have to meet some kind of standard to live up to the name.
And, it did that with its "get-up-and-go." The Mach-E touts that it can go from 0-60 in 3.5 seconds. Of course, much of that has to do with the lack of a combustion engine. I can tell you, the performance of this car is simply amazing.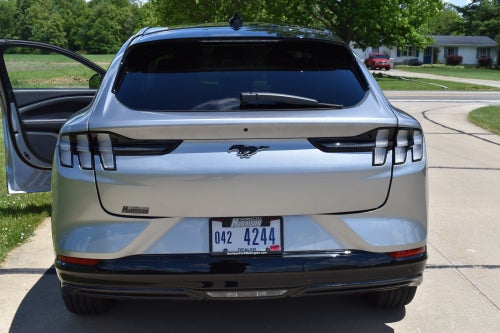 Here's some advice: Get a charger installed.
We have a rebate available at the cooperative to help you with the costs. If you don't get one installed, and you buy an electric vehicle, there's no way an average person will be able to keep the car charged and use it as a daily driver. It simply takes too long. There are some public charging stations available, and a variety of companies sponsoring them, so you do have other options. Still, it's much better to be able to charge the car at your home overnight while you sleep.
For me, electric vehicles have a valid use case for a substantial amount of the population. Most people don't drive anywhere near the amount that I do. And, the lowered cost to operate one of these cars far outweighs its initial investment. Simply, they can provide an owner with great paybacks in a short time. But, you do need to plan well, and make sure you have the appropriate charging technology in your home before you purchase. In anticipation of these vehicles getting better, I plan to go ahead and install a charger sometime soon! If you want to do the same, call the co-op and ask about our rebate.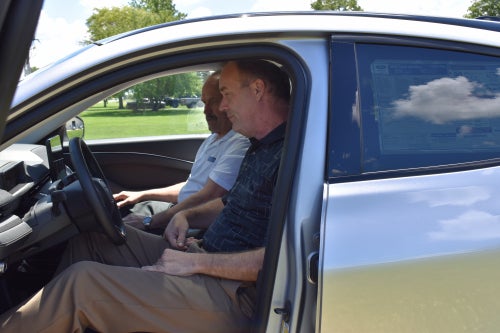 So, what do you need to be aware of if you buy one? Here's the rest of my review that wasn't published in the August issue of the Ohio Cooperative Living magazine: 
Like all electric vehicles, the first thing you have to concern yourself with is charging. The version Rodney lent me had an extended range battery, but I drive quite a few miles every day. So, I was naturally worried about the battery running down while I was traveling. With the extended range battery, the literature specified a maximum 305-mile range. In reality, I found that to be more in the 275 to 285-mile range.  The car came with a kit of converters that would allow for it to be charged via a variety of methods, including a standard 110-volt outlet. I have not yet purchased an electric vehicle myself, so, unfortunately, I could not take advantage of the fast charge capability. That meant I had to use the converter to try to charge it on a standard outlet.
As for the public chargers, I did find them to be problematic sometimes. Surprisingly, they've become much more abundant. I was able to find many of them on a trip to Cleveland. The problem I encountered was that many of them were broken! The end of the charger is made out of hard plastic, and when dropped it is prone to breaking. Apparently, many of these had been dropped often. It took me a little bit of driving around to find one that worked. So, don't wait until the last minute to try to charge. Plan ahead!
If you are interested in an electric vehicle, contact Harrison Ford in Wellington.  Special thanks to them for allowing us the opportunity to test drive this new car and share our experience with our members! 
www.harrisonfordwellington.com
820 North Main Street, Wellington, OH 44090