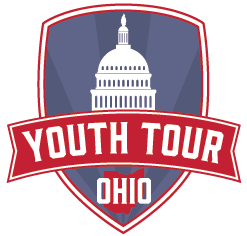 Electric Cooperatives is committed to building the next generation of electric cooperative members.
Every June, approximately 40 students from around the state attend Ohio's Electric Cooperatives Youth Tour. This educational leadership experience takes high school sophomores and juniors on a fun and unique trip to Washington, D.C., where they meet 1,600 other co-op teens from around the country. While in D.C., students learn about the unique cooperative business model, visit Capitol Hill to meet with Ohio's legislative leaders, and experience the sights and sounds and rich history of our nation's capital.
What makes electric cooperatives different from other utilities is that "giving something back to the community" is part of their seven cooperative principles.
Why do electric cooperatives bring high school students to Washington, D.C.?
Because it is important to learn about the political process and interact with your government. Participants will walk away from this week as a better leader and a sense that you can make a difference.
The Youth Tour has brought high school students to Washington, D.C. every June since the late 1950s. Since then, over 40,000 students from rural areas and small towns across America have participated in this unique program.
Students gain a personal understanding of American history and their role as a citizen by meeting representatives and senators and exploring the nation's capital.
The 2021 Youth Tour will take place on June 18-25, 2021. 
Coming soon! 2021 application packet download